Major Events
Chipstead Village Fair & Flower Show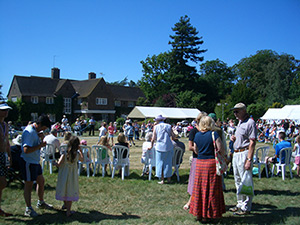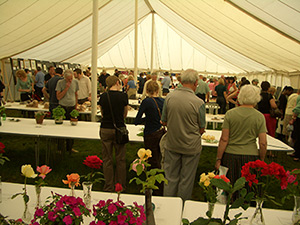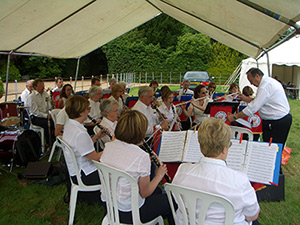 The Chipstead Village Flower Show and Fair is a remarkable combination of two events that have each been celebrated in Chipstead Village for many years. It takes place annually in July around St. Margaret's Day.
"Chipstead" is most likely a corruption of "ceapstede", a place where a market existed and is first mentioned in AD579. The first reference to a fair, rather than a market, is in 1549 when a fair was held on 20th July (St Margaret's Day). On 20th July 1809 a painting by the famous landscape artist Peter de Wint shows Chipstead Fair in full swing on Fair Green along the High Road.  It seems, however, that the fair was the scene of some notoriety that offended Victorian tastes and in 1854 the local gentry banded together to have it successfully "suppressed" by Reigate police. By the late 19th century a Flower Show (perhaps a more genteel version of the old fair?) was being held locally, alternating between Chipstead, Chaldon, Merstham and Mugswell. In 1910 the show was held in Chipstead (probably at Elmore) and has taken place annually in the village ever since. The nature of any fair in the latter half of the 19th century is unclear but there is reference to the "Chipstead Fete and Flower Show" taking place on 1st August 1914 and several references to The Flower Show and Fair coexisting throughout the 20th century. The Fair seems not to have taken place in times of war.
These days the Chipstead Village Flower Show and Fair is held at Elmore on a Saturday in mid July by kind permission of the Revd. John Wates. The Show attracts over 2000 visitors each year. Exhibits are staged in a large marquee and cover a wide range of adult and children's classes. Adult entries range from fruit and vegetables to cookery and handicrafts, while children's classes, well supported by local schools, cover skills such as painting, handwriting and modelling. Also on the showground are a wide variety of sideshows together with craft stalls and a programme of entertainment inside and outside the show ring. A long-standing feature is the SLH Elmore 7 Run, which has raised significant amounts for charity over the years. To complete the village atmosphere, the tea tent provides home made cakes and sandwiches to be enjoyed whilst listening to the silver band. 
Volunteers to help stage this unique event are always needed and very welcome. 
Venue 
Elmore, High Road, Chipstead, Surrey, CR5 3SB 
Funding
The Association relies on donations and sponsorship and also income from entrance fees and attractions at the annual Show. 
Contact Name and Address
Peter Quiney (Chairman)
Telephone: 01737 556686
email: chairman@chipsteadflowershow.co.uk
Website: chipsteadflowershow.co.uk
Facebook: Chipstead Village Flower Show and Fair
---
London to Brighton Bike Ride
Each June since 1980, over 25,000 cyclists on the London to Brighton Bike Ride pass through Chipstead. This charitable event supports the British Heart Foundation, and to date has raised over £35 million.
Chipstead has secured one of the official refreshment stops on Chipstead Meads and provides food and drink to thousands of individual cyclists. All proceeds from the refreshment tent go to the British Heart Foundation.
Volunteers to man the food tent and prepare sandwiches and cakes for this event are always very welcome.
Contact Name and Address
Steve Oldroyd
07778216222
Email: Steve.oldroyd@hotmail.co.uk



---
Chipstead and Hooley Bonfire Association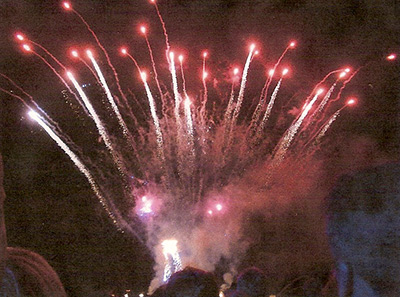 The Chipstead and Hooley Bonfire Association will be celebrating its 50th birthday later this year and we should like it to be a little bit special! This year's event will be staged on The Meads in Chipstead on Saturday 2nd November 2019.  Please make a note in your diary so as not to miss it!
The display is a far cry from how the event started all those years ago whereby spectators brought their own fireworks.  Nowadays, the display is a spectacular, professionally staged event and is reputed to be one of the best in the country, a close rival to the New Year's Eve fireworks in Sydney, according to reports!  In past years, we have been successful in attracting members of the public and we will strive to maintain its popularity for years to come.  We can only do this if you come along and support our community event.
Gates will be open from 5.00 pm and there will be refreshments for the whole family. The bonfire will be lit at 6pm..  We are planning to have the usual fairground attractions plus a few extra stalls and, to commemorate our 50th year, fire performers to entertain us all. There will be the ever-popular 'street food' outlets as well as hog roast, a hot sloe gin bar, mulled wine and hot chocolate to keep you warm.  Keep a regular check for more detailed information on our facebook site as we mover ever closer to the event.
For the first time, it is possible to purchase individual and family earlybird tickets at discounted prices.  Below is the link to our facebook page (or if you do not have a facebook page, try the link below this) where you will be able to purchase tickets for the whole family and save money at the same time!
https://www.facebook.com/events/2272592862809840/?ti=icl
http://buytickets.at/chipsteadfireworks1/298991
Proceeds of the event are put towards the following year, but where possible, donations are made to local groups to help further their aims.
As always, more volunteers would be welcome.  If you would like to make a rewarding contribution to your community by giving some of your time, whether as part of our committee or on the day itself, please contact the undersigned. Thank you.
David Selfe (Chairman)
Email: davidrselfe@gmail.com
 Report on 2019 Fireworks
David Selfe has written the attached report. Please click here to read it  2019 Reportpdf.  
St. Margaret's Church Fete
This popular event is always held on the second Saturday in June.
It was first held as the Rectory Garden Party in 1973 by the Rev. Canon Christopher and Mrs. Blair Fish in their large garden at the former Rectory in Elmore Road, and was a popular local event. It often had a specific theme, such as 'Victorian" or 'Scottish'. When Christopher retired in 1989, the Rectory was sold off by the church commissioners and is now a private house.
In 1990 the new Rector was the Rev. John Goodden, and after some procrastination it was decided that he and his family would live in a new Rectory in Starrock Lane. This had a much smaller garden, but John decided to keep up his predecessor's tradition, holding it first there in 1995. During the interim, the Garden Party was held in the garden of the old school in the High Road for a year or two, while it was being converted into private houses.
Over the next 10 years the Garden Party increased its scope considerably and was always well supported by neighbours and parishioners but very limited for space and parking.    When the Rev. Patrick Bateman came in 2005 with his young family, it was decided to move the venue again, this time to the church where it is now known as St. Margaret's Church Fete, the new venue turned out to be a great success.
The fete continues to be a traditional fete, resisting commercial stalls – stalls are always run by church members and local residents - but always has some new attractions every year in the shape of surprise guests!  Volunteers to help with the Fete are always welcome.
Venue
St. Margaret's Church
Contact
01737 552160
admin@smchipstead.org